Picking sites located everywhere in France
Elixirs & Co carries out the whole production and manufacturing of its products in France.
Bach flowers are picked in their natural wild environment and come from picking sites located throughout France.
The production of stock solution is made naturally by sun method or boiling method. Our stock solution are produced directly on French picking sites, made by us and controlled by Ecocert.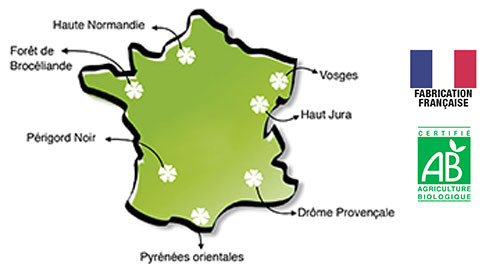 Products formulated and manufactured in France
Engaged in a process of traceability and quality, we formulated and produced our products in France.
We work with French formulation laboratories located in south of France.
The manufacture and packaging of our products are mainly made in Normandie. All our ingredients come from the richness of our French terroir.
We prefer the purchase of packaging items from French suppliers. Thus, we favor and value French manufacturing.
Our logo attests the French Manufacturing.