Innovation guides us in our creation of Bach flowers remedies to make theme acessible to all.
We are the first and only ones to have created a unique concept of natural products of well-being.
38 Single elixirs
Controlled and certified Organic by Ecocert.
Strict respect of Dr. Bach original method French wild flowers.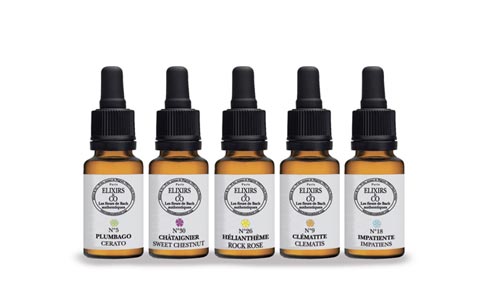 Combination Elixirs with Bach flowers
Ready to use remedies of exclusive blends
24 elixirs to answer everyday life problems*
– Easy to use
– Certified organic by Ecocert
Stress, Anger, Depression, Dependancies, Fears, Urgency, Travels, Menopause, Detox, Shyness, Concentration, Decision, Letting go, Libido, Sleep, Energy, Stop smoking, Slimness, Motivation, Break-up, Maturity, Woman, Teenager, Trust.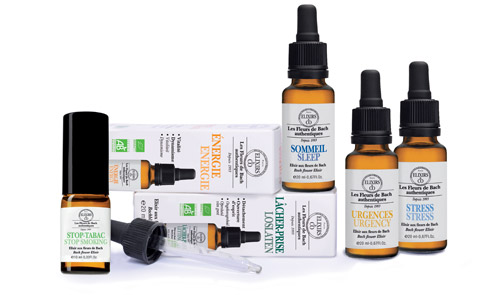 5 references, 5 benefits.
A unique alliance of Bach flowers & essential oils.
To keep with you wherever you go.
Delicious and sugar free.
Quiet child, Stop-smoking, Stress, Urgency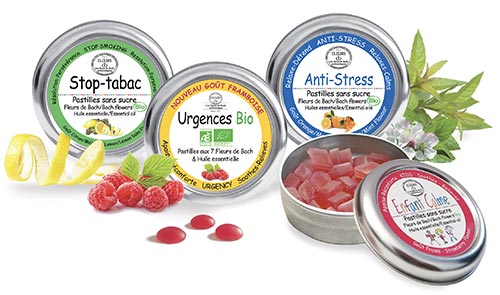 The first food supplements with Bach flowers in phials.
Controlled and certified organic by Ecocert.
Melatonin with Bach flowers.
4 food supplements: Sleep, Depression, Energy, Anti-stress Melatonin: Somniflor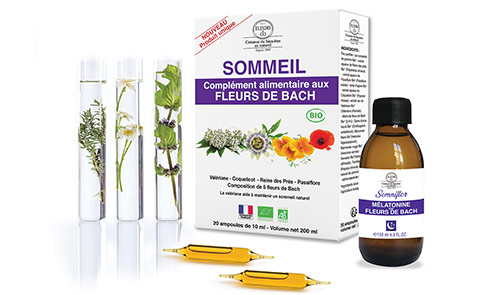 Pets range with Bach flowers
4 combination elixirs for 4 types of behaviours*
Certified organic
Strict respect of Dr Bach's original method.
– Treating fragrance for immediate comfort.
* Worked with a veterinarian: Dr. Rousselet – White: Sadness, Aggressivity,Stress, Fears, Immediate Comfort trating Fragrance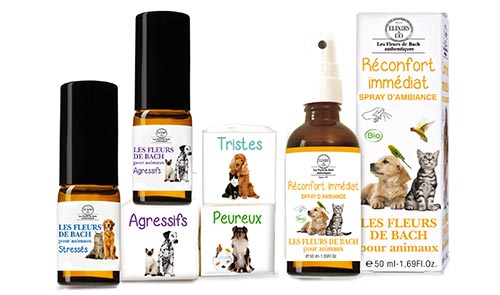 Elixirs in sprays 10ml + air immediat comfort spray 50ml
To overcome everyday life difficulties
A unique alliance of Bach flowers & essential oils.
Convenient, nomad and playful size
Certified organic by Ecocert
Urgency, Stress, Energy, Depression, Children, Menopause, Sleep, Slimness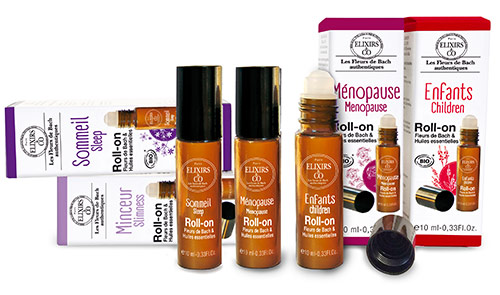 Truly innovative by combining the benefits of Bach flowers and the properties of essential oils
Gas-free pump spray
100% natural.
Urgency, Stress, Energy, Conflicts, Children, Sleep.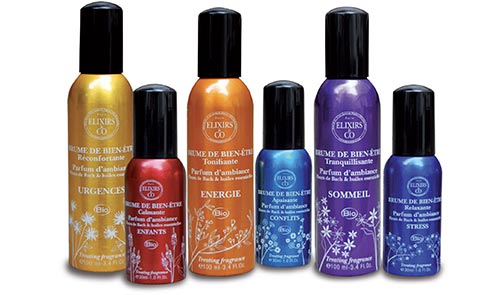 Eaux de Parfum with Bach flowers, Presence(s) de Bach & vivacite(s) de Bach
Unique perfumes which bring well-being to body and mind
Organic and natural ingredients
"Addictive" fragrances.
A full range of ancillary products: shower gel, body lotion, bath salts, soap.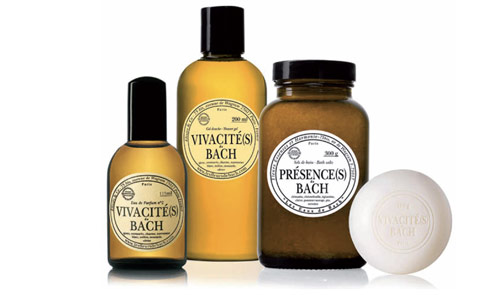 Unique perfumes which bring well-being to body and mind
Subtle and appealing fragrances.
Certified organic by Ecocert & Cosmebio.
Félicité: Relaxing Eau de Toilette
Harmony: Soothing Eau de Toilette
Audacity: Stimulating Eau de Toilette
Allégresse: Energizing Eau de toilette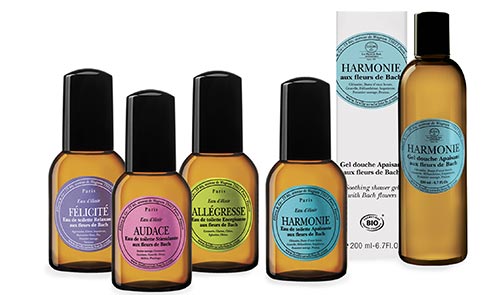 30ml- 55ml-115ml Eaux de toilette
Anti-Stresse skincare with Bach flowers
Another way of using anti-stress Bach flowers.
Essential and simple line of well-being products.
Skincare for both men & women
Certified organic by Ecocert & Cosmebio
– Exclusive anti-stress massage protocole
Retail and cabine size, 6 face products – 4 body products – 1 treating fragrance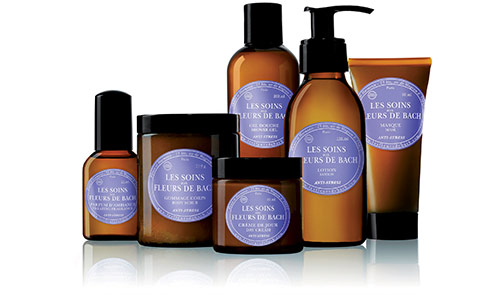 A range of essential oils 100% pure and natural.
Floral waters and vegetable oils.
Floral waters, energized oils, essential oils, synergies of essential oils, vegetable oils, capillas.